Yes Ladies and Gentlemen, the Royal Rumble is nearly upon once more and this is where so many of us fans get excited for the product because we love the rumble, we love the surprise entrants and we love the road to Mania. The Rumble match this year could be considered lacking as so many top tier superstars are injured such as Cena and Rollins and the promotion for the event has been build up on one man's shoulders and that is Roman Reigns. Before the pay per view begins, I am here to give you 4 of my picks to win the Rumble.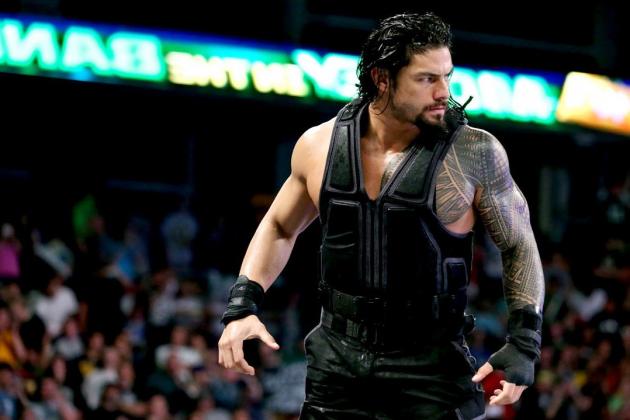 Roman Reigns
The champion entering at number 1, he can't possibly survive can he? Well we all know that Reigns is likely to be in the final two men in the ring. Vince has done everything within his power to make Reigns look like an unstoppable monster. Some of his techniques have worked, others have fallen flat but if you expect Reigns to be eliminated before the final four, you must have been watching a different show to everyone else. It is possible that Reigns will run through everyone in this Rumble and the fan reaction to this happening would be less than pretty. My prediction is Reigns is the runner up in the Rumble after being eliminated by...
.
Triple H

The above picture perfectly captures the reaction of every die hard WWE fan if my prediction is to come true. I know it is 2015, I know he should be nowhere near the main event of Wrestlemania at his current age but his father in law owns the company and the story practically writes itself. Suffering injury and humiliation at the hands of Roman Reigns, Triple H makes his return to screw Reigns out of the title by winning the Rumble himself similar to how Vince won the 1999 Rumble. They are trying to make Reigns like Austin so why not copy the entire story by simply replacing Vince with Triple H? It is genius, I should be working for the creative team(I expect their phone call any day now!). I do not want to see this happen, this is just the wrong move in my opinion but we all know Hunter's ego and we all know that this nightmare might become a reality tonight.
Brock Lesnar

One can never count out the beast Brock Lesnar and with Lesnar entering the Rumble, you have to have him as a favorite to win. On the last edition of Raw, Lesnar was assaulted by the Wyatt Family which leaves me leaning towards Bray eliminating Brock through shenanigans to build to a Mania match but a part of me also believes Lesnar may come out on top as champion. I would have no problem with Brock winning the championship and dropping the belt at Mania to Roman or defending the championship against Bray Wyatt. Whatever the result is , expect Brock to have a big part to play in this Rumble and a lot of people getting taken to Suplex City.
The Undertaker
Ok hear me out on this one, it is looking likely that this is Taker's last year in wrestling. He has performed at two of the big four WWE events of the year, wrestling at Summerslam and Survivor Series. We know Taker will be at Mania as he always is and it is in his home state of Texas. Would it not be incredible to see Undertaker enter the Rumble and defend the championship in Texas for his last match. It would be a great story to tell and a fitting end to the career of one of the most iconic and legendary superstars to ever step foot inside a wrestling ring. You may argue that a younger superstar should win the Rumble and they should not focus on part timers or veteran superstars but to see The Undertaker win would be a great moment and a real shock to everyone as we all feel either Triple H or Roman Reigns is walking away with the title.
So that's it they are my predictions for the Rumble, as always I choose a number beforehand and this year I am feeling lucky with number 19. Last year I got DDP which didn't go to well for me but at least he laid a few people out with diamond cutters. This year is really feels like a two horse race between Reigns and Triple H, I guess the only thing left to do is sit back and enjoy the Rumble. Until next time, see ya!